Land Reclamation
Today's growing urban local authorities must formulate a comprehensive strategy for the utilization of Land reclamation even after accumulating legacy waste. If statistics are to be believed, approximately 3,000 dumping of solid waste alone in India must be reclaimed or closed until further notice. Non-scientific-built dumpsites cause irrecoverable ecological harm: they produce leachates, emit greenhouse gasses, contaminate groundwater, and so forth.

Land disposal is frequently a threat that needs to be controlled owing to its environmental, ecological, as well as socioeconomic repercussions. As a direct consequence, there's an immediate need to reclaim existing landfills to preserve land area (referred to as prolonged landfilling) and reprocess untapped potential accumulated at old waste disposal sites.

The Challenges of Legacy Waste & Its Negative Impact on Our Environment

In our metropolitan areas, there seem to be two major barriers to solid waste management:
Routine management of the constant flow of household waste.
Struggling to cope with the legacy of carelessness that has ultimately led to piles of garbage accumulating at open dumps intended for waste treatment and garbage dumps.

After generations of being used, such dumpsites have grown in size and heavier, to become serious environmental contributors. Leachate, a noxious dark fluid concentrate produced by waste decaying in all of these landfills, ends up killing greenery in its route and irrevocably contaminates underground water. Trash heaps also contribute to the greenhouse effect, a greenhouse gas that contributes 21 times more to global climate change than carbon dioxide. Methane frequently auto-ignites, starting to cause blazes in open dumps and resulting in significant air pollution.

Is Legacy Waste of Biomining the Perfect Option?
The Central Pollution Control Board (CPCB) defines Biomining as the scientific process of excavating, treating, segregating, and profitably utilizing older solid waste from municipalities resting in landfilling, also known as legacy waste.

The legacy waste of Biomining will gain significant traction all across the country in the coming decades, fueled by additional funding from SBM 2.0. After needed experimental studies, the utilization of reclaimed land will emerge as a significant problem for municipal authorities to derive the best functionality.

It is significant to mention, moreover, that bioremediation is now only feasible for Landfill with an increased organic material. Remediation of legacy waste doesn't always produce effective outcomes in old / aged garbage dumps (un-operated and sealed dump sites) at which waste has indeed surpassed the specified level of bacterial metabolism.

As a direct consequence, the initial stage toward dumping Land reclamation is to evaluate the viability of undertaking bioremediation of waste disposal sites by analyzing performance parameters like the attributes and structure of legacy waste.

Environmental Threats of the Biomining Process
There are multiple significant ecological risks involved with bio-mining developments, therefore a strategy to confront these uncertainties must be kept on hand. The majority of the circumstances introduced at the dumpsite as well as its environments will indeed be detailed to the garbage dump and the maturity level of the waste being lifted.

The potential consequences might primarily be connected with the suitable handling of hazardous waste that could be discovered all through reclamation operational processes, handling the discharges of carbon dioxide and fumes, as well as the affiliated dangers to people's health, and trying to control any fire, subsidence, or breakdown.

Potential impacts can be successfully controlled if they are recognized in beforehand procedures and acceptable mitigation strategies are crafted by the executing agency.

Methodology Used for Legacy Waste/ Land Remediation
Bioremediation and Biomining can be used to identify and dispose of legacy waste. First, before a project can start, a total station study or drone surveying of every landfill/dumping site must always be completed. As a result, it is advised to conduct a preliminary investigation into the project's historical past as well as a waste compositional analysis. Both before and after the bio-mining procedures, environmental variables such as baseline studies of toxic substances in surface and subsurface soil and groundwater, rainfall, soil composition, surface hydrology, topography, wind speed and direction, and so forth will be researched.

After the completion of Biomining, a periodic study will be conducted to look for just any negative impacts in the nearby region.

Complete Land Recovery through Reclamation
This translates to the excavation of old dumped waste as well as the formation of windrows of legacy waste to stabilize the waste via bio-remediation, i.e. the access of all waste to air along with the utilization of composting bio-cultures, accompanied by inspection of the stabilized waste in the hopes of recovering all precious assets (such as natural fines, concrete blocks, rocks, polymers, metal alloys, garments, trash, and so forth), guided by ecological sustainability through reprocessing, co-processing, and even construction of roads.

The following benefits result from dumpsite remediation:

Abolition of offensive odors for the benefit of residents.
Reduction in vector-borne infections characterized by the garbage dump.
Major reduction in overall environmental pollution.
Eradication of dump fire incidents and the production of leachate.
Enhancement of the city's environmental, beauty, and socioeconomic variables
Greenhouse emissions, soil contamination, as well as contamination of groundwater are all being reduced.
Rise in the value of neighboring real estate and investment properties.
Dumping sites' land is made accessible for other purposes.

With the availability of land significantly reducing, this land solution will play a significant role in the future. This vital step involves restoring the landscape to its natural beauty, ensuring that ecosystems thrive once more.

Final Thoughts

Legacy waste and open dumps are now a massive, foul-smelling challenge across the world, especially in India. It is critical to professionalize landfill exploration and production of legacy waste to envision a landfill-free country.

Along with this, Recycled materials and items must be mandated by law in government procurement. It is critical to note that till any parliamentary instrument endorses and encourages legacy waste management business owners, there's going to be insufficient assurance of their long-term viability.

There is a straightforward and squeezing necessity for collaborative efforts among academic circles, businesses, and government leaders to formulate a sustainable model for handling, managing, and recycling legacy waste management relying on circular economic principles.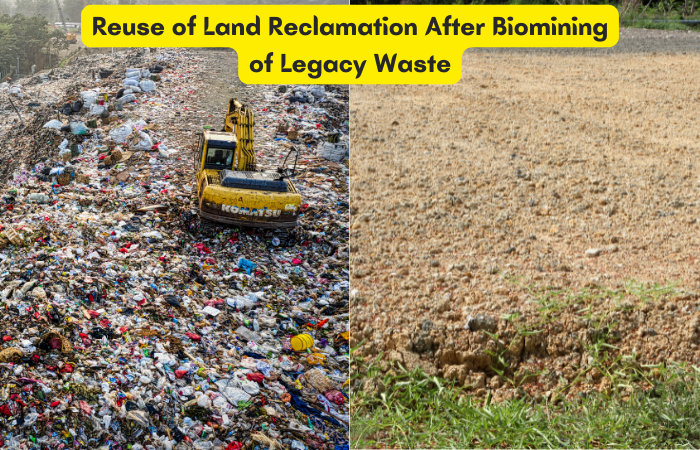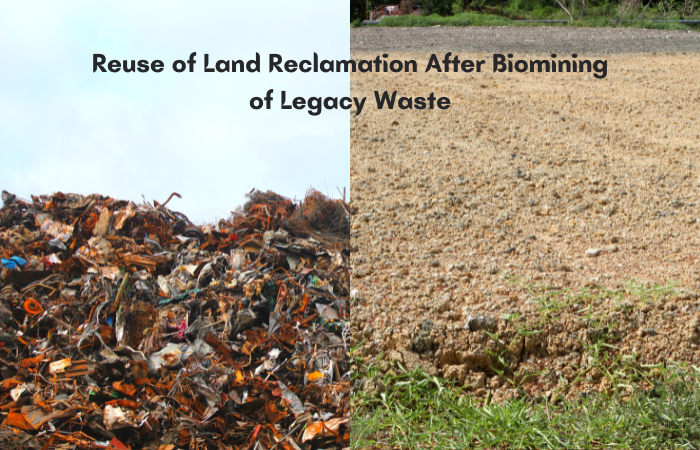 Call/DM us for inquiries! +91-7290049003
Sharing is caring!